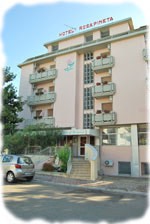 Welcome in Hotel Rosapineta! Our hotel is located in a very quiet place inside the beautiful pine wood of Lignano Pineta, only 250 metres from the beach. The beach service is not included in the price
"DESCRIPTION OF THE HOTEL"
Hotel Rosapineta is located in a quiet and green area of Lignano Pineta, only 250 meters from the beach, just 100 meters from the center.
All 27 rooms have indipendent air conditioning units, spacious balconies, telephone and private bathroom. Free WiFi connection is available.

This hotel has two main rooms equiped with satellite TV, digital channels, projector and Dolby Digital Surround system to project and watch all sport events, other interesting programs, slides during events, conferences and meetings. A large garden with a playground for children is also available.

Our breakfast includes coffee, capuccino, milk, tea, bread, croissants, cookies, butter and jam, ham, cheese, cereals, juices and yogurts, fresh fruit, homemade fruit salads, a variety of homemade sweets. 
A small bar with competitive prices for soft drinks, cocktails, snacks, expresso's and capuccino's is available for all our guests.

We love animals, therefore the hotel will also host your animals: small-size dogs, cats and pets are welcome!  
We inform all of our returning customers who have honored us with their presence all these years and
to whom, with great pleasure, we have always provided full board or half board services, that this
season we will only provide bed and breakfast services.
Please rest assured that all other services (air conditioning, car parking, free WIFI, etc) are still included in the price.
We will provide all of our guests with a list of good restaurants and pizzerias close to our Hotel with
affordable/discounted prices for lunch and/or dinner.
Hotel Rosapineta thanks all our clients for visiting again.
Enjoy your stay
-  -  -  -  -  -  -  

HOTEL ROSAPINETA - ARCO DEL LIBECCIO, 33 o RAGGIO DEI PEOCI, 1
33054 LIGNANO PINETA (UD) - ITALIA
MAIL: info@hotelrosapineta.com
© Copyright & Disclaimer Hotel Rosapineta - Anelir S.r.l. - P.IVA 02738030309